As Featured In


As Featured In


Take a look at what SmartLotion® did for others:
Roughly 30% of Americans suffer from at least one form of dermatitis.
You are not alone in feeling helpless when you experience another flareup of eczema.
You may feel like it's impossible to get on top of your condition and keep it under control even though you tried various treatments that promised to be the real thing.
Perhaps you have spent a tremendous amount of money and put endless hours into research to find the magic antidote that can bring your life back to normal. You may have tried everything to keep your symptoms under control — from topical remedies to prescription steroids, homeopathic medications, and over-the-counter drugs — only to find yourself back where you started with no real progress or even worse, with your progress going backward.
That's because EVERY single other solution available only targets one root cause of eczema, while in reality...
The Cause of Eczema is Actually Twofold - And SmartLotion® Is Designed To Tackle Both!
There are two major factors at play here:
1. Unhealthy Skin Microbiome - When an eczema flare-up occurs, your skin microbiome is out of balance — there are too many "bad" bacteria (typically staph) and not enough "good" bacteria.
2. The body's inability to fight back inflammation - The imbalance described above causes chronic inflammation in your skin as a natural reaction of your immune system that leads to symptoms like redness, heat, itching, sensitivity, swelling, and more.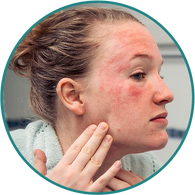 Redness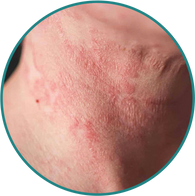 Scaling
rashes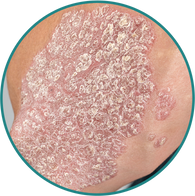 flaking
But the symptoms of eczema go beyond that depending on the severity of your condition.
Are you experiencing any of these?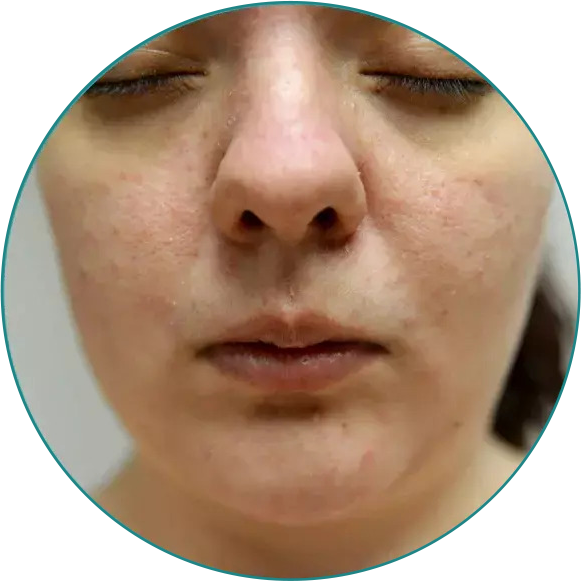 Mild Eczema
Red or blotchy skin
Itchy skin
Tingling skin
Embarrassed to go out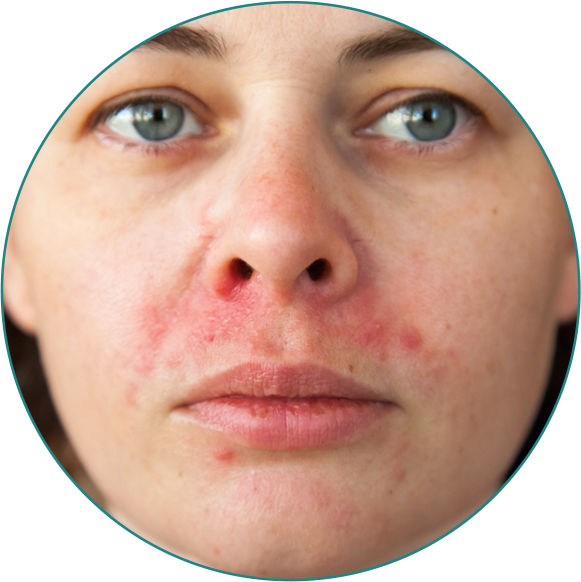 Moderate Eczema
Red or blotchy skin
Itchy skin
Tingling skin
Embarrassed to go out
Pain
Trouble sleeping from the
urge to scratch
Burning sensation
Feeling helpless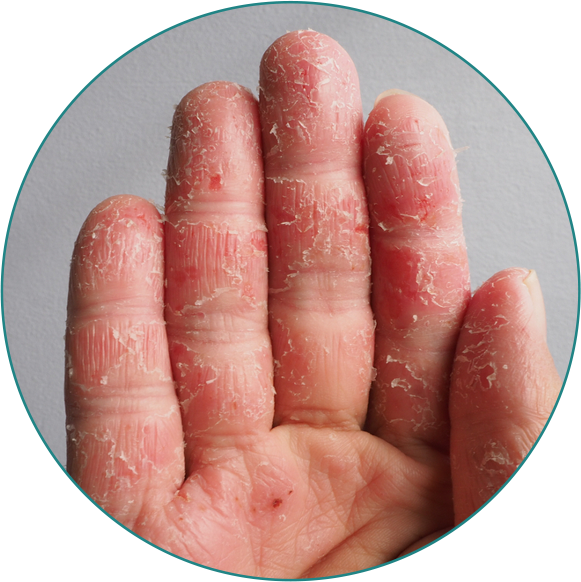 Severe Eczema
Red or blotchy skin
Itchy skin
Tingling skin
Embarrassed to go out
Pain
Trouble sleeping from the urge to scratch
Burning sensation
Feeling helpless
Scabbing all over your body
Sensitivity so bad that even sweating hurts.
Don't enjoy being touched, even shaking hands feels painful.
Open oozing wounds
If you suffer from any of the symptoms listed above, you may have turned to your local dermatologist or other specialists for help. However, most of the available prescription and non-prescription treatments have one major drawback:

They only offer short-term relief of symptoms and do NOT prevent flare-ups from recurring.

 While homeopathic or other non-drug solutions may improve some of the symptoms of eczema, prescription medications can target one root cause or the other, none of which addresses both causes of eczema at the same time.
In addition, the side effects of some of these drugs are particularly unpleasant when used for extended periods, which makes them ill-suited for long-term use.
This only leads to additional frustration on the part of patients and prompts them to seek out other market solutions.
Introducing SmartLotion®: The ONE and ONLY product that targets BOTH root causes of eczema!
SmartLotion® not only improves the health and appearance of your skin but also removes the need for heavy medications, except in certain situations.
It is that long sought after solution that will keep you from going back to stage one: feeling hopeless and desperate over and over again.
How does it work?
SmartLotion® features Sulfur (0.5%) and Hydrocortisone (0.75%). When combined, the actions of these two ingredients provide a gentle yet effective way to address each root cause of eczema. Here's how:
In contrast to antibiotics that have been shown to negatively affect the microbiome, Sulfur is a natural prebiotic that works by safely increasing the presence of "good" bacteria and decreasing the number of "bad" bacteria in the skin microbiome.
The other ingredient, Hydrocortisone, is an anti-inflammatory drug that suppresses the rash caused by your body's own inflammatory response. The sulfur in SmartLotion® also has two secondary functions, which are that it allows for a lower, safer strength concentration of Hydrocortisone to be used and it helps protect the skin from all hydrocortisone side effects.
In general, the prolonged use of high-strength steroids can cause 3 possible side effects: thinning of your skin, steroid acne (perioral dermatitis), and steroid rebound phenomenon, otherwise known as topical steroid withdrawal or TSW. Due to the combination of Sulfur and low-concentration Hydrocortisone, SmartLotion® will not cause any steroid side effect when used as directed. In fact, a clinical study found that SmartLotion® caused ZERO incidences of any of the 3 possible steroid side effects, even when used daily for 15 years.
As a result, the two ingredients in SmartLotion® work together to attack both underlying causes of dermatitis while providing a safe, effective relief. If you're looking for a solution that can give you unlimited control over your symptoms, allowing you to live a normal life without worry of another flare-up, SmartLotion® is just what you need!
Relief Without The Side Effects!
SmartLotion® is proven to be the ONLY steroid product in the world that can be used continuously because it does not cause ANY side effects, even when used on sensitive areas like the face and eyelids.
See what others have to say about SmartLotion®'s effectiveness:
What exactly makes SmartLotion® unique among all the anti-itch treatments on the market?
While other treatments may relieve the symptoms on a temporary basis and others may be able to manage one or the other causes of eczema, they cannot address both causes.
For bacteria
Most treatments use strong antibiotics that can destroy the beneficial bacteria in the skin creating an imbalance in your microbiome and making your skin vulnerable to inflammation later on.
SmartLotion®'s approach to eczema and dermatitis is a far cry from conventional anti-itch treatments. Unlike the harsher methods, it uses sulfur to rebalance your skin microbiome, lowering the level of harmful bacteria without destroying your skin's natural defense mechanisms while improving the levels of good bacteria.
Because it is a prebiotic, Sulfur can actually repair and strengthen your skin's natural barrier, which is necessary in the flare-up recovery process.
For inflammation
The majority of topical treatments for inflammation contain extreme concentrations of steroids, which can cause side effects and are not safe if used for extended periods. The reason prescription steroids are made too strong is that they only target inflammation and ignore the microbiome aspect. In essence, they are forced to compensate by "overdoing it" on the strength, which can lead to side effects. 
SmartLotion® uses a safer concentration of hydrocortisone (FDA approved for anti-itch). Because of the sulfur, the low-strength hydrocortisone stays effective in fighting inflammation without the need to discontinue use after a couple of weeks.
And, because sulfur is also part of SmartLotion® formula, it has been proven to be safe and cause no side effects when used as instructed, as demonstrated in this clinical study.
SmartLotion® is the smartest way to keep your eczema flare-ups under control!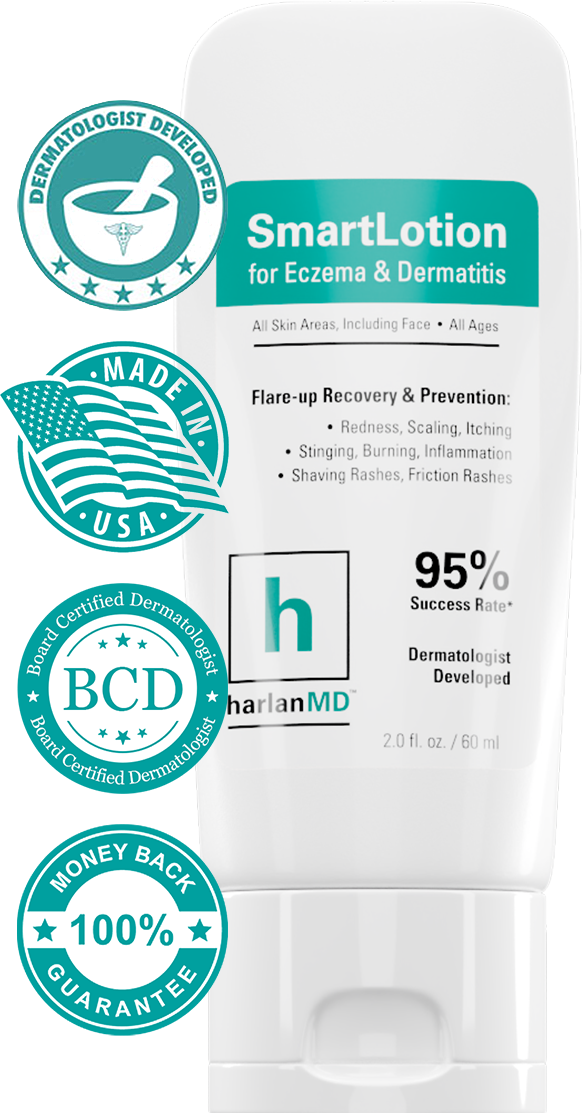 Provides long-lasting relief from eczema flare-ups.
Prevents the flare-ups before they even start.
It is gentle and effective even in sensitive areas like the face, lips, or eyelids.
Demonstrated to be 100% safe for daily use by Dr. Harlan in his study published in The Journal of Drugs and Dermatology.
Works on every type of eczema & dermatitis (Seborrheic, Perioral, Atopic, Dyshidrotic, Rashes, Folliculitis, Razor Burn, Rosacea, Psoriasis, and Much, Much More!).
Anyone who purchases the product will also receive Dr. Steve Harlan's instructions that he typically gives his patients to treat them for every type of dermatitis and eczema.
Not only does it work, but it will also save you thousands over prescription treatments or other expensive alternatives!

60 Days Satisfaction Guarantee
We've seen how effective SmartLotion® can be for our customers and we want you to experience it too! That's why we offer our 60 days money back guarantee on all orders! If you're not completely satisfied with your purchase during this period, let us know and we'll give you a full refund!
Meet Dr. Steve Harlan, MD
The bright mind behind SmartLotion®!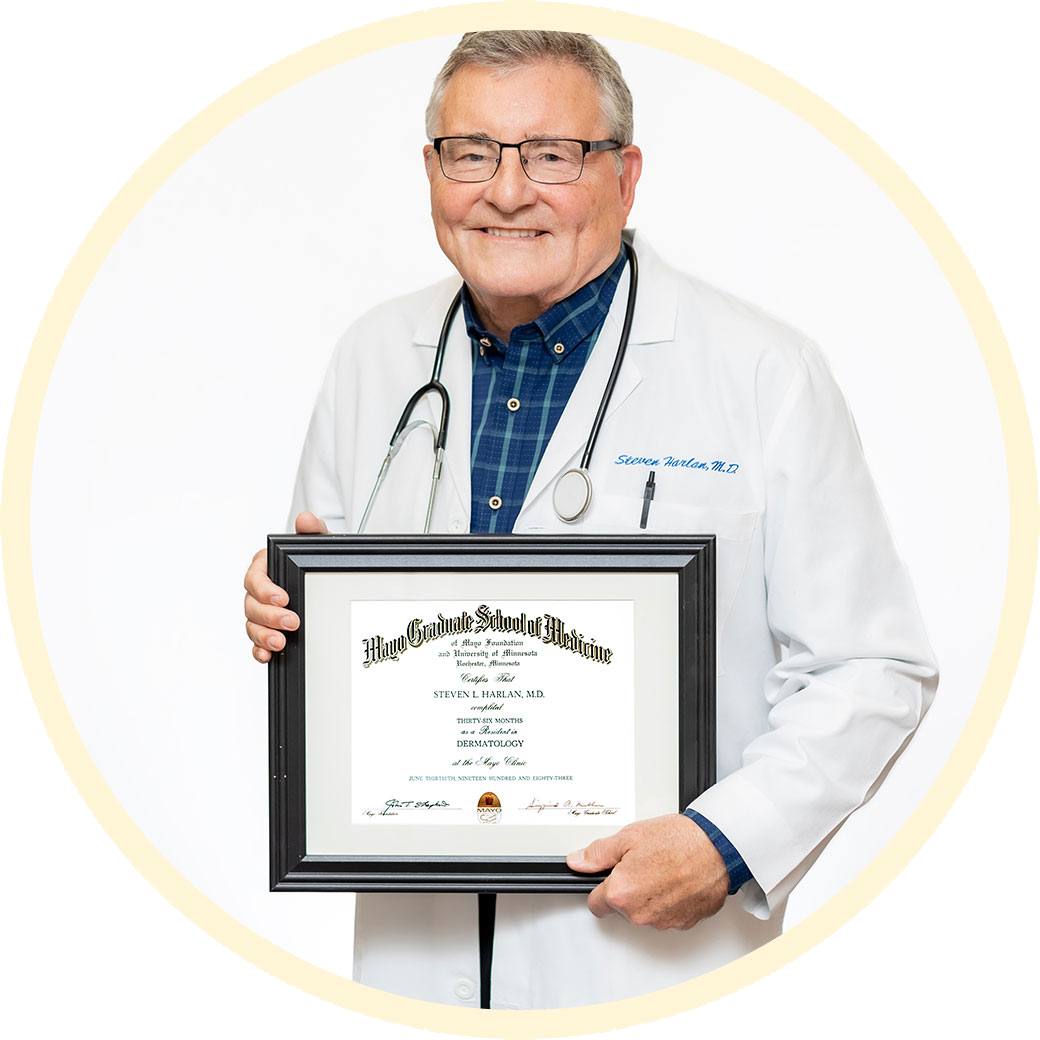 The invention of this product would not have been possible without Dr. Steve Harlan's tireless efforts. SmartLotion® is originally based on a classic compounding pharmacy formula from the 70's.
When Big Pharma began pushing dangerous prescription steroids in the 90's as the treatment for eczema and dermatitis, he noticed that those solutions could only treat severe flare-ups, and were too strong for extended and preventative use. This left many patients struggling to find a solution for mild, recurring dermatitis.
In response, Dr. Steve Harlan brought back a traditional formula found only in compounding pharmacies and created SmartLotion® in order to provide his patients with a safe and effective way to manage their dermatitis long-term. 
Thus, SmartLotion® was born —  a unique combination of hydrocortisone and sulfur: the first has potent anti-inflammatory properties, the other can reset the imbalance in your skin's microbiome while also making the hydrocortisone entirely safe for long-term use. 
Since then, Dr. Harlan has used it in clinical settings to treat over 20,000 patients for all forms of dermatitis and eczema over the last 30 years!
Dr. Steve Harlan's Instructions And Tips For Eczema Relief
For Flare-Up Recovery – Apply a thin, disappearing layer of SmartLotion® 2-4x daily for eczema on the face and other sensitive areas, or 4x per day for flare-ups located on the body. Atopic dermatitis (eczema) patients must moisturize 2x per day at a minimum.
For Flare-Up Prevention – Apply SmartLotion® as needed, or 1-2x daily depending on location. Atopic dermatitis/ eczema patients must keep moisturizing 2x per day. See the FAQ at the bottom of this page for Dr. Harlan's list of recommended moisturizers.
Tip 1 – For Ultra-Sensitive or Stinging Skin: Before every use, splash water on your skin first, then apply your moisturizer, then apply your SmartLotion®. You can even use ice briefly to help with any stinging.
Tip 2 – For Open Wounds or "Weeping" Eczema: It is safe to use moisturizer directly on the wound if you clean it before. Apply SmartLotion® around your wound, but not in.
Tip 3 – Because Dr. Harlan takes a personal interest in all of SmartLotion® users, he provides them with a knowledgebase containing information about every form of dermatitis, along with how he would use SmartLotion® to treat them, troubleshooting info, and more!
Act Smart & Get Yours Before It's Too Late!
The demand for SmartLotion® is so high at the moment that we are selling through our inventory supply extremely quickly. We have limited quantities available, so if you want to start enjoying all its amazing benefits, get your hands on some today!
Even though SmartLotion® is now going viral and more people are stocking up on it, Dr. Harlan is so confident in his product that he's offering a generous discount — but only while supplies last and only if you act TODAY!
Those who have already tried SmartLotion® keep coming back for more because they FINALLY found a product worth stocking up on!
What are you waiting for?
Click The Button Below To Check Current Availability:
🎉 Shop Our Black Friday Deals: 🎉
SmartLotion®
SmartLotion® for Eczema and Dermatitis uses a Compounding Pharmacy-inspired formula to safely treat and prevent itching associated with dermatitis and eczema flare-ups.
1. Choose Quantity
Best Value
3 Bottles
$20.77 / Each
(SAVE $26.70)
Most Popular
2 Bottles
$24.15 / Each
(SAVE $20.70)
1 Bottle
$27.30 / Each
(SAVE $11.70)
2. Purchase Options
➤ Subscription Black Friday Bonus, Cancel Anytime
👉 30% OFF FIRST PURCHASE
👉 FREE 12oz Moisturizer
Every SmartLotion Purchase Features:
✅ 95% Success Rate
✅ 60-Day Guarantee
✅ 100% Safe For Long-Term Use
Over 20,000 Dermatitis Patients Already Love SmartLotion®:
My skin has finally healed!
"Can't thank you enough! This cream has relieved my severe itching like nothing else I've ever tried. Has made it possible to wear short sleeves and shorts again without embarrassment. My skin has finally healed!"
This is a miracle cream
"This is a miracle cream. My face has never been better."
A real game changer
"This really does a wonderful job for me. Nothing else I tried even comes close. A real game changer. Thank you Dr. Harlan."
I will be a SmartLotion user forever
"I JUST CAN'T BELIEVE IT. One week using SmartLotion. I have had this patch of eczema for over 10 years. It has NEVER completely gone away. I have been to dermatologists and have been on steroid creams and ointments. I have used every over the counter lotion and treatment. None of those have been able to do what your product has done in one week. While steroids thin the skin, your lotion does not. I actually feel that the skin is the same as the skin around the area. This is important because if I do scratch it, I don't feel that I will be back to square one like I am with steroids. I want to thank your whole organization for a truly unbelievable product. I can't wait to see what another week will do. I will be a SmartLotion user forever."
Omg my hand healed so fast
"I thank DrHarlanMD for such a good cream. I applied for 3 days only and I can see difference on my hand. I had cracks on my palm and fingers and was so painful. Omg my hand healed so fast🙏🙏"
Thank you Dr. Harlan
"I love this lotion. My face, neck and chest was in such bad shape. itching, on fire and terrible rash. I was so uncomfortable. The Dr gave me a few different creams which didn't help at all and the last thing I got even made it much worse. I saw this on my Facebook and thought it couldn't hurt any more. I got it in two days and started using it immediately. I felt better the very first day. It's now been one week and it's nearly gone. Unbelievable!!! I can't be without it from now on. Thank you Dr. Harlan"
Completely healed!
"I bought this for my 7 year old grandson. HE HAD IT REALLY BAD ON HIS HANDS. To the point of raw. We have been using this for just one week. Completely healed! Thank You!"
Best money I've spent
"This cream is amazing best money I've spent!"
I cried when I saw a huge difference
"Hello, I can't believe how good your product is… I received it yesterday and already it clearing up on my face… I cried when I saw a huge difference in ONE DAY!!!!!! THANK YOU SO MUCH!!!"
Thank you so much for making this available to everyone!!
"Thank you so much for making this available to everyone!! This smart lotion is amazing. I have suffered with eczema for over 10 years now mainly on my legs and the cream my doctor proscribed me is nothing compared to this lotion I'm so grateful I could cry from the results I have gotten using this for 3 weeks now my skin is comfortable clear and going on 4 weeks my skin will be completely cleared and irritated free! No more waking myself up at night scratching my skin away! I will be ordering more"
Frequently Asked Questions
What are the ingredients used in SmartLotion®?
Ingredients:
Active: Hydrocortisone 0.75% Purpose: Anti-Itch
Inactive: Water, Petrolatum, Glycerin, Steareth-2, Dimethicone, Cetyl Alcohol, Magnesium Aluminum Silicate, Benzoyl Alcohol, Laureth-23, Sulfur, Carbomer, Grapefruit Seed Extract, Potassium Sorbate, Xanthan Gum, Sodium Hydroxide, Fragrance (Hypoallergenic Natural Apricot)
For more information on the hypoallergenic natural apricot fragrance, click here.
For more information on why the hydrocortisone in SmartLotion® will not cause side effects, click here.
What conditions can Dr. Harlan treat with SmartLotion®?
Dr. Harlan uses SmartLotion® to treat every type of recurring dermatitis and eczema. He also combines it with prescription treatments for improved control of conditions like Rosacea and Psoriasis. For information on how Dr. Harlan treats every possible type of dermatitis with the exact instructions he provides to his patients, click here.
What conditions can SmartLotion® not help with?
SmartLotion® cannot help with viral infections, fungal infections and stable, physical changes to the skin (such as moles or morphea). For a complete list of conditions that SmartLotion® cannot assist with, please click here.
Where can I safely apply SmartLotion®?
Any and all skin areas. For sensitive areas like the face, Dr. Harlan typically suggests his patients apply SmartLotion® 2x per day for up to 2 weeks, then taper down. For thicker skin areas like the hands and feet, Dr. Harlan typically suggests 4x applications per day for up to 4 weeks followed by tapering.
How much SmartLotion® should I order?
SmartLotion® usage depends on the skin condition and the affected area. For facial seborrheic dermatitis, Dr. Harlan typically sees his patients get clear skin after just a few applications, and uses only a single bottle every 4 to 5 months. Atopic dermatitis that covers large areas of the body, however, can require up to 3 bottles every 2 weeks for the 1st month, then 3 bottles per month after that. Refer to Dr. Harlan's condition protocols for how often he typically recommends applying SmartLotion® to his patients.
What moisturizers does Dr. Harlan recommend?
The #1 recommended moisturizer by Dr. Harlan is CeraVe® Cream. #2 is CeraVe® lotion. For a complete list of recommended moisturizers, click here.
Does SmartLotion® interact with any medication?
No. SmartLotion® does not interact with any medications, so it can be used safely by those who take medication regularly. Dr. Harlan has found that SmartLotion® actually makes many topical prescription medications work better, such as biologic therapy for psoriasis.
I am allergic to sulfa drugs. Can I use SmartLotion®?
Yes. The natural prebiotic sulfur featured in our SmartLotion® formula is completely unrelated to Sulfa drugs (common antibiotics).
Is SmartLotion® safe for children?
The FDA has not cleared hydrocortisone for use in children under 2. When planning to use SmartLotion® on your child, be sure to do so with your Dermatologist or Pediatrician's supervision.
How long does it take to see results after you start using SmartLotion®?
Dr. Harlan has found that the time it takes to see results typically depends upon the severity of the condition he is treating. Most of his patients experience itch and pain relief almost immediately, or within 1 to 2 days. However, conditions like atopic dermatitis can take up to 3 to 4 weeks to show improvement as long as the patient follows Dr. Harlan's instructions (like the instructions found in the condition protocols section of the knowledgebase).