As Featured In




As Featured In




Used to treat over 20,000 patients over the last 30 years:
These results are typical because of the 95% success rate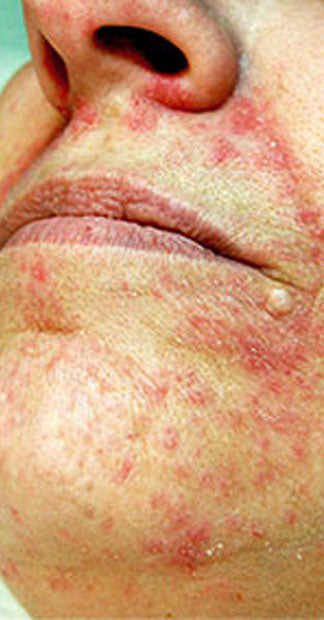 Before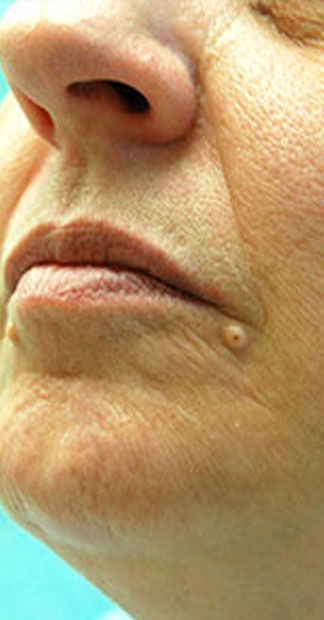 After
Perioral Dermatitis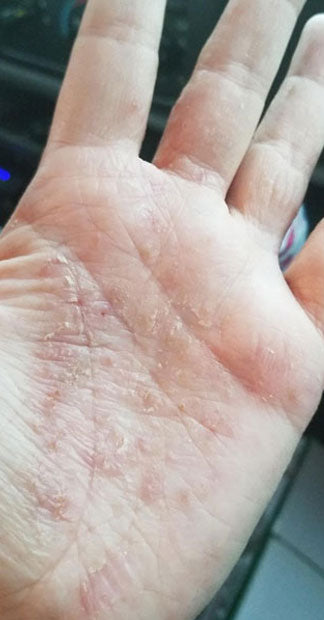 Before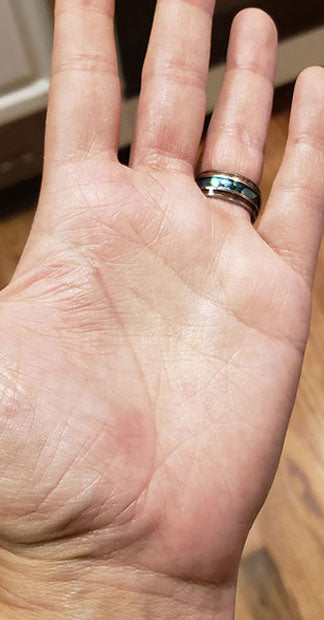 After
Atopic Dermatitis (Eczema)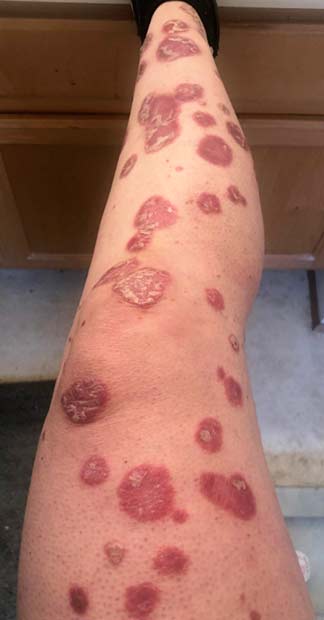 Before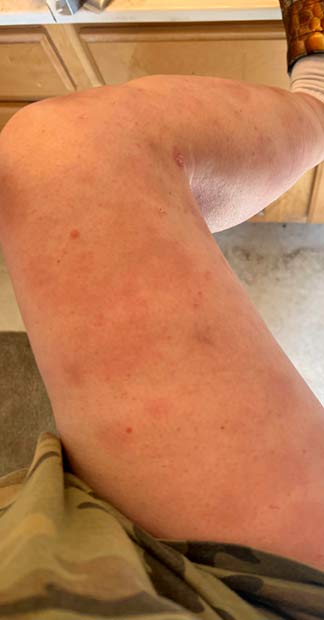 After
Psoriasis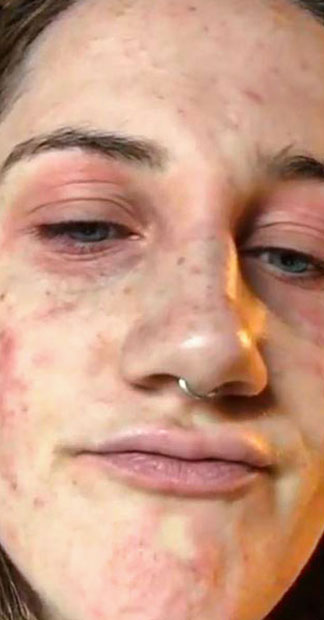 Before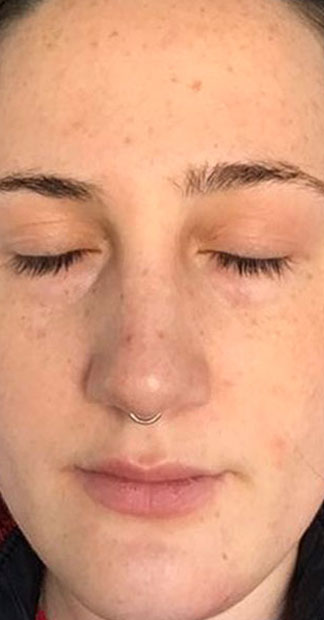 After
Atopic Dermatitis (Eczema)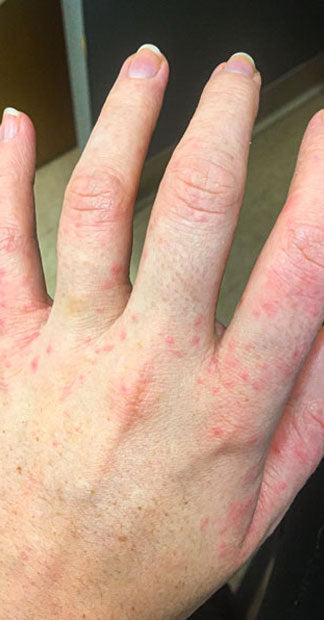 Before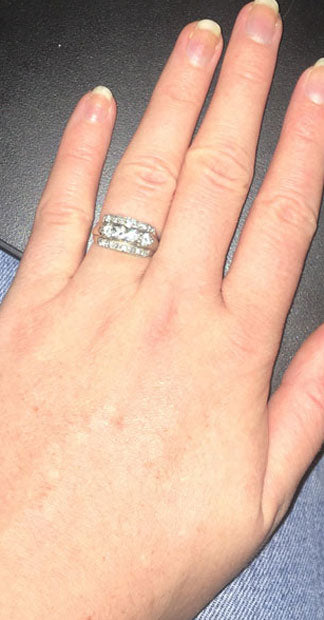 After
Atopic Dermatitis (Eczema)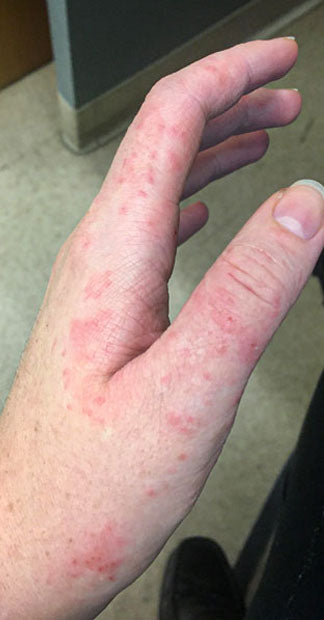 Before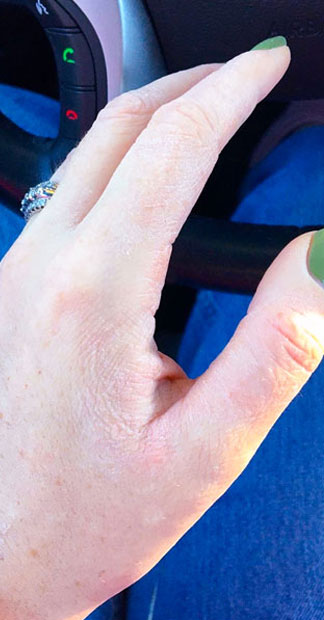 After
Atopic Dermatitis (Eczema)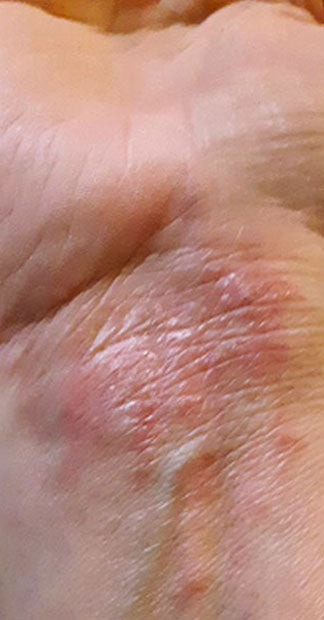 Before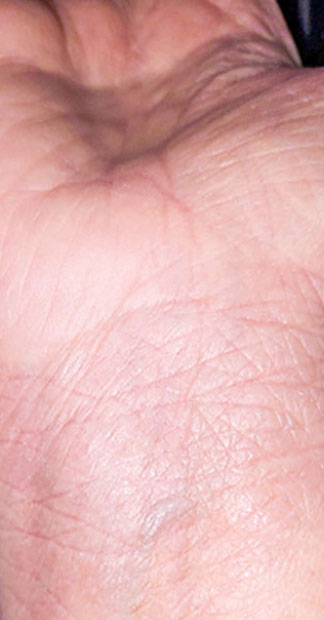 After
Atopic Dermatitis (Eczema)

Eczema Relief In 3 Easy Steps:
1

Order your SmartLotion from our website

2

Get the package delivered right to your doorstep as soon as within 24 hours.

3

Apply as instructed and experience relief from your eczema & dermatitis symptoms in no time!
The ONE solution to ALL
your dermatitis symptoms: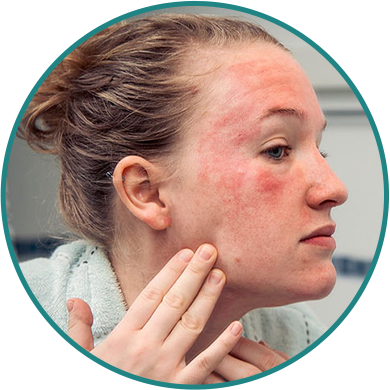 Redness
Helps you fight the redness of itchy skin by calming and soothing irritation.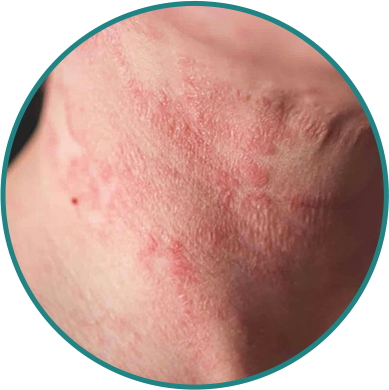 Scaling
Combats the scaling process, prevents the formation of new scales, and restores damaged skin.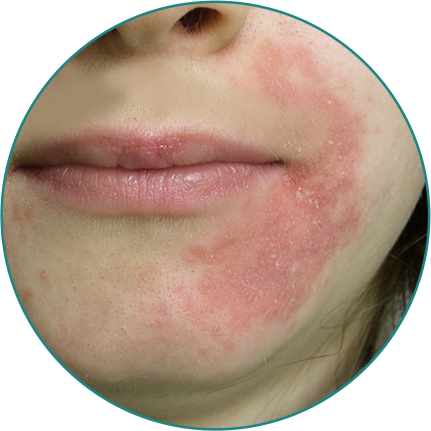 rashes
Reduces the existing skin rash outbreak and prevents the apparition of skin rashes.
flaking
Restores the healthy appearance of your skin and stops it from drying out and flaking off in the future. Not even the most stubborn types of dermatitis
and eczema can fight back SmartLotion®!

Seborrheic Dermatitis

Facial redness, scaling, slight itching or stinging in the eyebrows, face or crease between the cheek and nose.

Rosacea & Psoriasis

Facial blushing or flushing, itching or burning sensation, visible veins, red patches, bumps and pimples, swelling

Atopic Dermatitis

Facial or neck red slightly scaling patches. Prominent itching on the face, ears, neck or jaw line.
Perioral Dermatitis

Facial patchy redness with small bumps and slight scaling on the chin, or around the mouth, nose or eyes.

Razor Burn

Shaving rashes on the neck, legs or pubic area.

& A LOT More!

The HarlanMD Knowledgebase shows how Dr. Harlan typically uses SmartLotion® to successfully treat over 25 common forms of dermatitis and eczema in his patients.
Clinical 95% Success Rate
GET YOUR SmartLotion® TODAY!

Get Access To Our
Knowledgebase For Free
your one-stop place for everything about SmartLotion®!
Find answers to all your questions
No registration required
We've created an information exchange page to help you get the most out of your experience with SmartLotion®! Find answers to common questions about our product, get a better understanding of your symptoms, learn the exact instructions Dr. Harlan typically provides to his patients in order to treat any type of eczema or dermatitis while using SmartLotion®, and more! Every Form of Eczema & Dermatitis is a
result of these common TWO problems: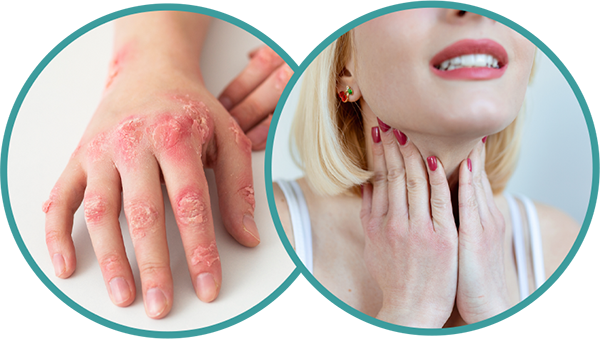 Problem 1:
Unbalanced Skin Microbiome
When the skin's microbiome is dominated by "bad bacteria,"(commonly staph) this can cause the immune system to wildly overreact with inflammation as a result.
Problem 2:
Lack of "Inflammation Brakes"
The inability of the immune system to cope with this inflammation inevitably leads to the unbearable symptoms of eczema and dermatitis.
SmartLotion® is the ONLY eczema cream in the world
that directly addresses both root causes at once: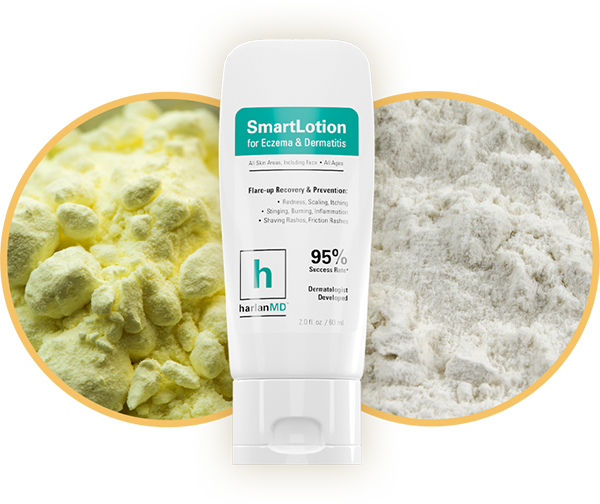 The Pure Element Sulfur
The sulfur acts as a prebiotic, which addresses the bad bacteria prevalence in the skin's microbiome and reduces inflammation-causing super antigens.
Low-Strength Hydrocortisone
Due to its lower concentration and the added protection provided by sulfur, the hydrocortisone helps your immune system put the "brakes" on your inflammation without causing side effects.
Clinical 95% Success Rate
GET YOUR SmartLotion® TODAY!

Relief Without The Side Effects!


SmartLotion® is based on a one-of-a-kind formula that combines a safe concentration of hydrocortisone (FDA approved for anti-itch) with the double-action properties of sulfur which lowers the level of harmful bacteria in your skin's microbiome while shielding against any of the side effects associated with high strength steroids.
60 Days Satisfaction Guarantee

When you buy SmartLotion®, you have nothing to lose! We're so confident you'll love this eczema cream that we're offering a 60 days money back guarantee on all orders. If you're not satisfied at any point during this period, simply return your order for a full refund — no questions asked!
People who use SmartLotion®
are thrilled with their results: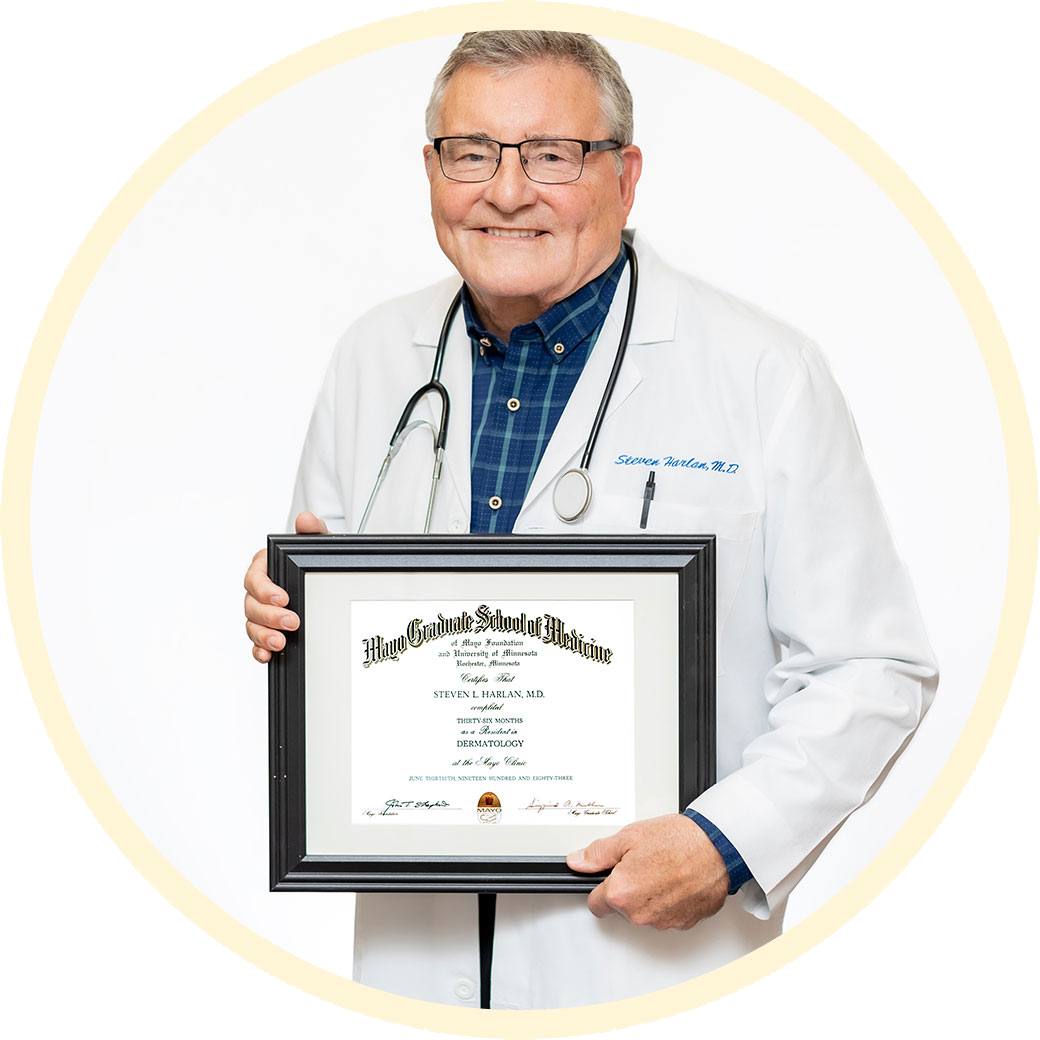 Meet Dr. Steve Harlan, MD
The bright mind behind SmartLotion®!
The invention of this product would not have been possible without Dr. Steve Harlan's tireless efforts. SmartLotion® is originally based on a classic compounding pharmacy formula from the 70's.
When Big Pharma began pushing dangerous prescription steroids in the 90's as the treatment for eczema and dermatitis, he noticed that those solutions could only treat severe flare-ups, and were too strong for extended and preventative use. This left many patients struggling to find a solution for mild, recurring dermatitis.
In response, Dr. Steve Harlan brought back a traditional formula found only in compounding pharmacies and created SmartLotion® in order to provide his patients with a safe and effective way to manage their dermatitis long-term.
Thus, SmartLotion® was born — a unique combination of hydrocortisone and sulfur: the first has potent anti-inflammatory properties, the other can reset the imbalance in your skin's microbiome while also making the hydrocortisone entirely safe for long-term use. Since then, Dr. Harlan has used it in clinical settings to treat over 20,000 patients for all forms of dermatitis and eczema over the last 30 years!
Got Any Questions?
We've Got You Covered!
Haven't found what you are looking for?
Contact Us instead
What are the ingredients used in SmartLotion®?
Ingredients:
Active: Hydrocortisone 0.75% Purpose: Anti-Itch
Inactive: Water, Petrolatum, Glycerin, Steareth-2, Dimethicone, Cetyl Alcohol, Magnesium Aluminum Silicate, Benzoyl Alcohol, Laureth-23, Sulfur, Carbomer, Grapefruit Seed Extract, Potassium Sorbate, Xanthan Gum, Sodium Hydroxide, Fragrance (Hypoallergenic Natural Apricot)
For more information on the hypoallergenic natural apricot fragrance, click here.
For more information on why the hydrocortisone in SmartLotion® will not cause side effects, click here.
What conditions can Dr. Harlan treat with SmartLotion®?
Dr. Harlan uses SmartLotion® to treat every type of recurring dermatitis and eczema. He also combines it with prescription treatments for improved control of conditions like Rosacea and Psoriasis. For information on how Dr. Harlan treats every possible type of dermatitis with the exact instructions he provides to his patients, click here.
What conditions can SmartLotion® not help with?
SmartLotion® cannot help with viral infections, fungal infections and stable, physical changes to the skin (such as moles or morphea). For a complete list of conditions that SmartLotion® cannot assist with, please click here.
Where can I safely apply SmartLotion®?
Any and all skin areas. For sensitive areas like the face, Dr. Harlan typically suggests his patients apply SmartLotion® 2x per day for up to 2 weeks, then taper down. For thicker skin areas like the hands and feet, Dr. Harlan typically suggests 4x applications per day for up to 4 weeks followed by tapering.
How much SmartLotion® should I order?
SmartLotion® usage depends on the skin condition and the affected area. For facial seborrheic dermatitis, Dr. Harlan typically sees his patients get clear skin after just a few applications, and uses only a single bottle every 4 to 5 months. Atopic dermatitis that covers large areas of the body, however, can require up to 3 bottles every 2 weeks for the 1st month, then 3 bottles per month after that. Refer to Dr. Harlan's condition protocols for how often he typically recommends applying SmartLotion® to his patients.
It's important to note that SmartLotion® is not a moisturizer and should not be used as such. Per Dr. Harlan's instructions, SmartLotion® should only be applied as a thin, disappearing layer. The formula is extremely thick, and a small amount goes a long way.
What moisturizers does Dr. Harlan recommend?
The #1 recommended moisturizer by Dr. Harlan is CeraVe® Cream. #2 is CeraVe® lotion. For a complete list of recommended moisturizers, click here.
Does SmartLotion® interact with any medication?
No. SmartLotion® does not interact with any medications, so it can be used safely by those who take medication regularly. Dr. Harlan has found that SmartLotion® actually makes many topical prescription medications work better, such as biologic therapy for psoriasis.
I am allergic to Sulfa drugs, can I still use SmartLotion®?
Yes. The natural prebiotic sulfur featured in our SmartLotion® formula is completely unrelated to Sulfa drugs (common antibiotics).
Is SmartLotion® safe for children?
The FDA has not cleared hydrocortisone for use in children under 2. When planning to use SmartLotion® on your child, be sure to do so with your Dermatologist or Pediatrician's supervision.
How long does it take to see results after you start using SmartLotion®?
Dr. Harlan has found that the time it takes to see results typically depends upon the severity of the condition he is treating. Most of his patients experience itch and pain relief almost immediately, or within 1 to 2 days. However, conditions like atopic dermatitis can take up to 3 to 4 weeks to show improvement as long as the patient follows Dr. Harlan's instructions (like the instructions found in the condition protocols section of the knowledgebase).
I think I may be allergic to an ingredient in SmartLotion®. How do I test for this allergy before I use the product?
To find out if you are allergic to SmartLotion®, apply a small chocolate chip-sized dollop of the product to an inner forearm once daily for three days. If you have an allergic reaction, send the product back for a full refund.
Do you offer refunds? How do I get my money back?
We offer a 60-day satisfaction guarantee for all purchases. If you aren't satisfied for ANY reason whatsoever, just send it back for a full refund. For complete refund instructions, click here.
What should I do if I do not see results from SmartLotion®?
If you don't see any results, check the knowledgebase and make sure you are following the instructions. Dr. Harlan has found that the most common reason for a lack of results is the patient not moisturizing enough. However, you can always reach out to us at support@harlanmd.com if you have any questions or concerns.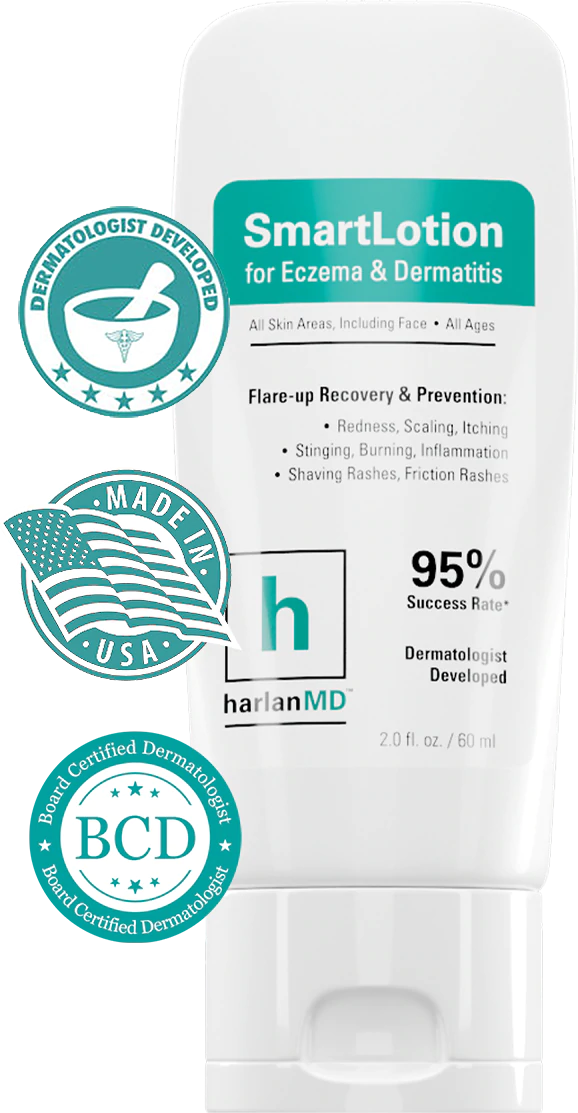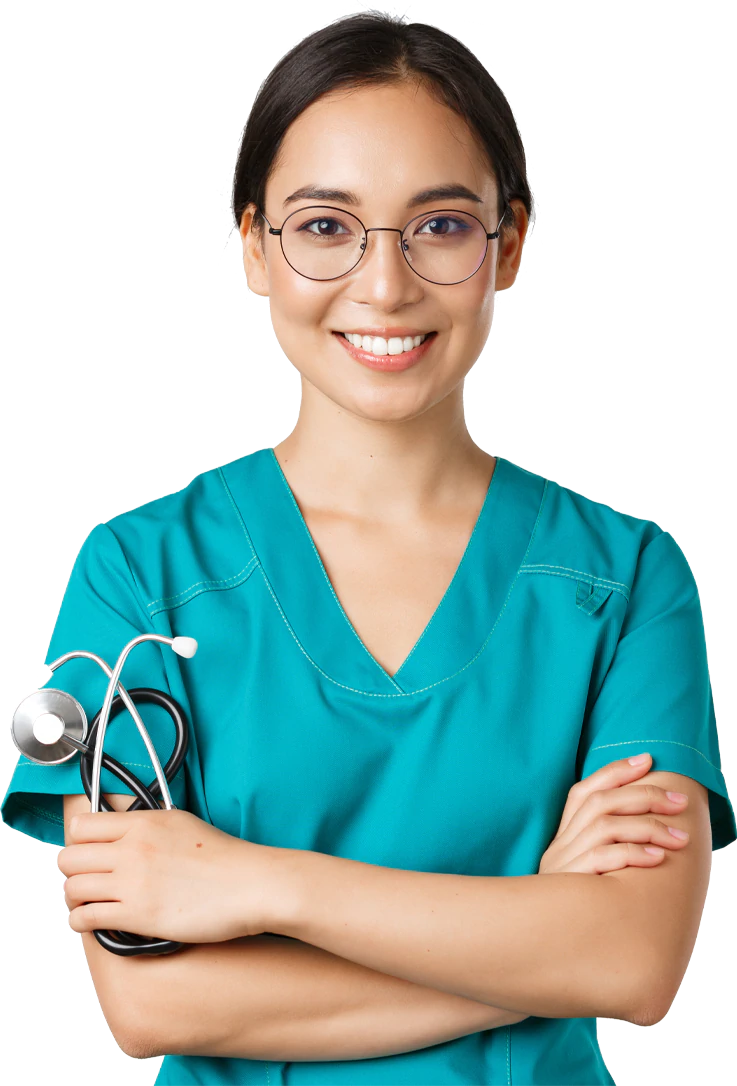 Get The ONLY Eczema Cream
That You Will Ever Need!
SmartLotion® is the ONLY eczema cream in the world that addresses both root causes of eczema.
It offers a fast, safe and effective way to soothe and ward off flare-ups.
Just reference the protocols in our knowledge base to find out
exactly how Dr. Harlan uses SmartLotion® to provide his patients
with clear skin (That STAYS clear!) for over 30 forms of dermatitis.
Thousands of people rely on it every day!